Many interesting articles have been written about Limbach Holdings (LMB) on Seeking Alpha. Their main investment thesis is that LMB is changing its product mix from the lower margin GCR to the higher margin ODR, which will cause the stock to reprice. Currently 70% of revenue is generated by GCR, the goal is to reduce GCR's contribution to 50% of revenue by 2025. I agree with the thesis as I have been invested since September 2021 when the share price fell below $7. But in this article, I want to provide four more reasons why LMB is a good investment that you should consider.
Limbach Holdings Overview
Rather than paraphrase, here's an excerpt from the Seeking Alpha overview page:
LMB operates as an integrated building systems solutions company in the United States. It operates in two segments, Building and service. The company engages in design, prefabrication, installation, management and maintenance of mechanical, electrical, plumbing and control systems, as well as heating, ventilation and air conditioning (HVAC) systems; and equipment maintenance and upgrades, emergency service work, automatic temperature control, specialty contracts and energy monitoring services.
The construction segment (GCR) is the least attractive segment. Projects tend to be larger, ~50 million USD, they require significant working capital, investments and a 10% gross margin if all goes according to plan. Any setbacks and these projects could become losing propositions for LMB. In 2018, GCR generated $438 million in revenue, since then the company has deliberately stopped participating in large projects and instead bid on smaller projects that have higher margins. As a result, GCR's revenue decreased by 24% in 3Q21, but the margin fell from 8.4% in 2018 to 11.8% in 3Q21. Management's plan is to reduce the size of GCR but not eliminate it at all. GCR projects are a good pipeline to lock down ODR services.
On the other hand, the services segment (ODR) is very attractive. These services tend to be recurring and predictable revenues. They require minimal capital expenditure and have gross margins of 25% to 29%. There are two main types of services, preventive maintenance and emergency services. This segment is developing at a pleasant pace. In 2017, ODR revenue was $94 million, in 2020 it increased to $127 million, and I expect ODR revenue to close at $141 million in 2021.
Reason #1: LMB can consolidate the market at attractive valuations
This market is very regional and fragmented. This is why the offers are so competitive and the margins so low. Since most operators are small and unsophisticated, once they decide to leave the business and retire, selling to LMB is a good option. The current rate for these companies is 4 to 5 times EBITDA and the acquirer can include an earn-out option to ensure the smooth transition.
By consolidating the market, LMB could reduce regional bidding wars and secure a higher margin. Moreover, by bringing together players from the same region, there are cost synergies.
Before COVID, LMB's last acquisition was Dunbar Mechanical. Then he had more pressing issues to deal with, such as the level of debt – so the acquisition was halted. But in 1Q21, LMB raised $24.9 million via equity issuance. This proceeds were used to reduce debt by $10.2 million, and as of September LMB had $33.3 million in cash and only $26.2 million in debt (excluding capital leases).

Now less indebted, the company could resume its acquisition strategy. At the end of 2021, LMB acquired a mechanical contractor for 20 million USD. This acquisition was finalized at 4.4x EBITDA excluding synergies. I expect other acquisitions in the years to come.
Reason #2: The CEO has skin in the game and insiders are buying stocks
CEO Charles Bacon owns 4.3% of the shares. He bought the shares opportunistically. But we've also seen directors invest around $545,000 in the stock over the past year. Keep in mind that I ignore non-informative buys because they do not indicate conviction buys.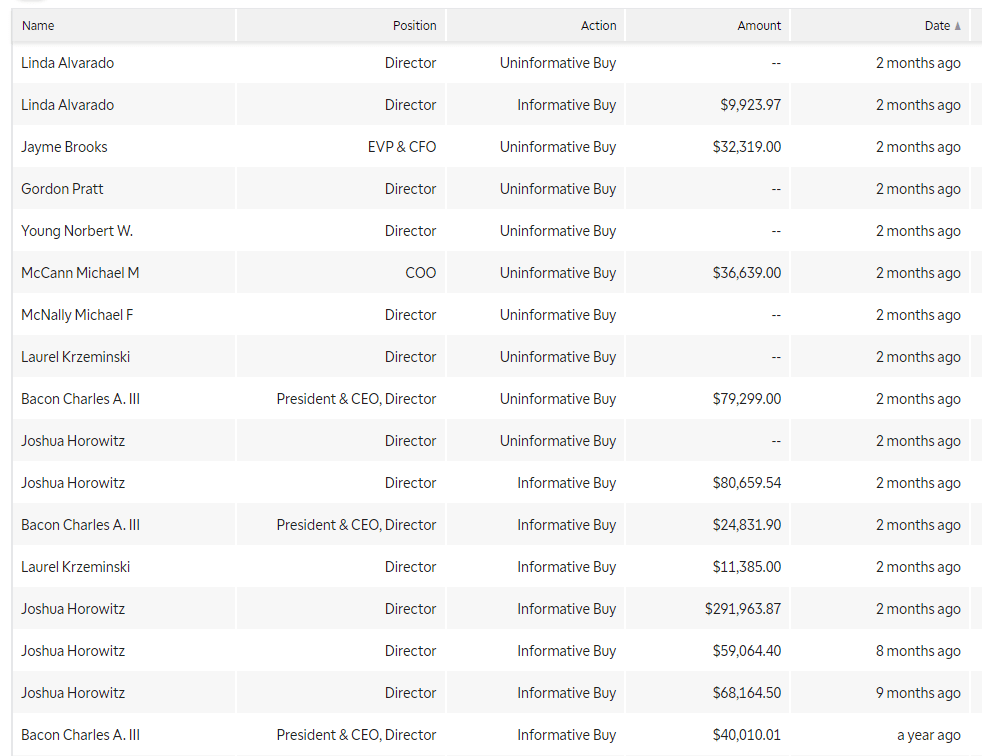 Reason #3: Attractive prospects for the engineering and construction (E&C) industry
According to a Deloitte report, E&C revenue for 2021 is expected to increase by 6.9% and they expect an acceleration in 2022. The acceleration of non-residential E&C will be supported by The Infrastructure Investment and Employment Act. This bill will benefit both residential and non-residential projects. In In addition to the infrastructure works, LMB will likely benefit from the healthcare-focused investments in this bill.
Also on the earnings call, Charles provided data points and third-party insights for the industry that support the above conclusions:
The September AIA Billing Index continues to point to expansion at 56.6. The Dodge Momentum Index hit a 14-year high, a 47% increase from the same time last year. The IMF's fourth quarter forecast presents a forward-looking view of continued growth, with non-residential construction sectors growing through 2025, healthcare, our largest sector, showing very strong growth over the period. The IMF report also bolsters growth in the US Southeast, where we are looking for expansion opportunities.
Reason #4: Very attractive valuation, buy the GCR segment and pay 10% for the ODR segment
The two main drivers of valuation were revenue and margins for each segment. For revenue, I assumed a continuation of the current trend, which is for ODR to grow and GCR to decline. By 2025, ODR would represent 53% of revenue, slightly more than the management-guided 50%.
As for the gross margin, I expect the long-term margin of the GCR to converge towards 10%. FY2021 margin will likely close around 11.8%, however, I believe the higher margin is one-time due to the COVID situation. The 10% is also a little lower than the 10.5% to 11.5% forecast, although I think management is picking profitable projects, I think the competitive nature of the business will squeeze margins. That said, if management succeeds in consolidating the market in key regions, it will reduce competition and could increase margins. Based on ODR segment gross margin, LMB is expected to close at 29% in 2021. I expect margins to gradually decline to 25%.
Based on an unleveraged beta of 1.09 for the sector and a debt-to-equity ratio of 60%, I estimate the WACC at 7.7%. If these assumptions occur, the fair value of the stock is $21 per share.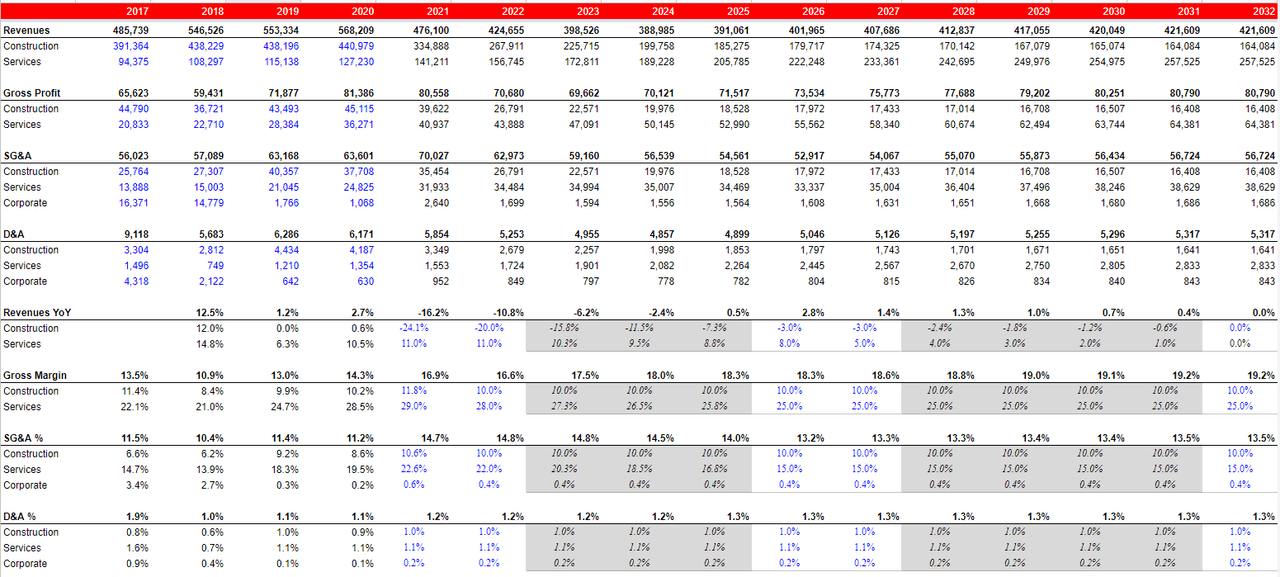 However, I found it more interesting to evaluate each segment on its own as they have a different economy. On a steady-state basis, GCR's EBITDA margin is expected to exceed 3%, CAPEX is expected to be 0.4% of GCR's revenue and this is declining business for LMB – all of which would justify an EV/EBITDA multiple of 6x. Next year, I expect EBITDA for this segment to be $10M leading to a per share value of $5.80 per share or 76% of the current LMB share price.
Regarding the ODR segment, I expect the EBITDA margin to be around 8% and the capex to be 0.1% of revenue thanks to the asset-light business model. Moreover, as this is a growing segment, a multiple of 14x EBITDA seems reasonable. Applying the expected EBITDA for this segment, $11.3 million, the value of this segment is $15.30 per share.
I triangulated the EV/EBITDA multiples with comparable companies in the industry with similar profitability and growth profiles. In the chart below, companies in the red box are similar to the GCR segment while those in the blue box equate the economy of the ODR segment.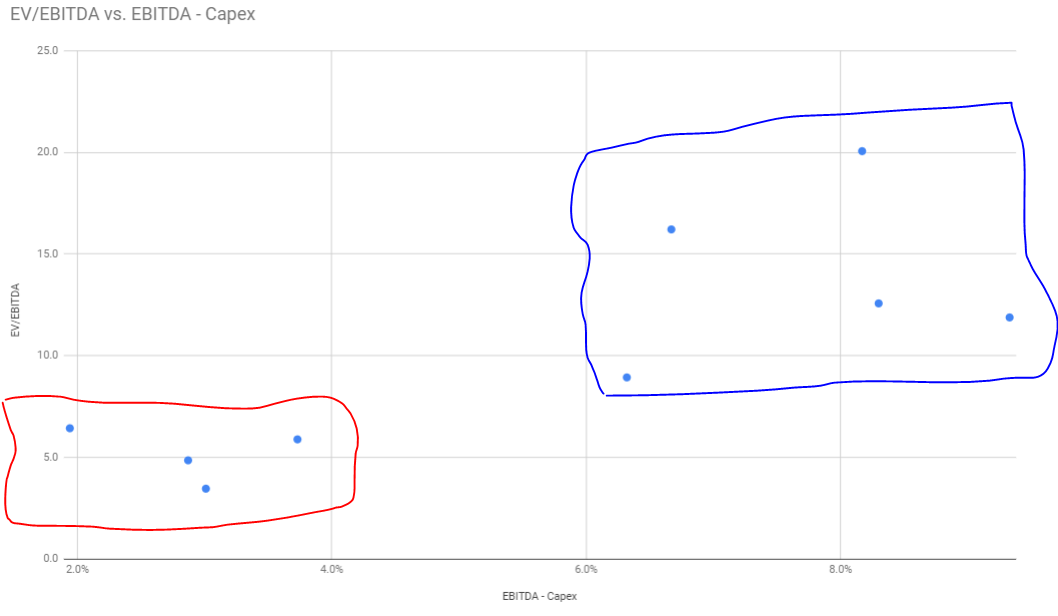 If you like the details, below are the companies used in the table above with their respective EV/EBITDA multiple and margin (EBITDA-CAPEX).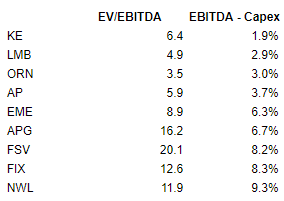 This valuation suggests that by buying LMB shares you are paying for the GCR business and only paying $2 for a $15 company with a nice margin of safety.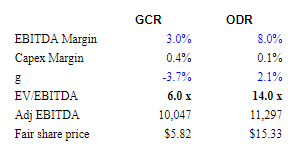 Risks
There are reasons why the stock price trades where it is now. Currently, LMB is less profitable, shrinking (as the industry grows), and more leveraged.
LMB is less profitable

LMB slashes revenue and EPS as industry expands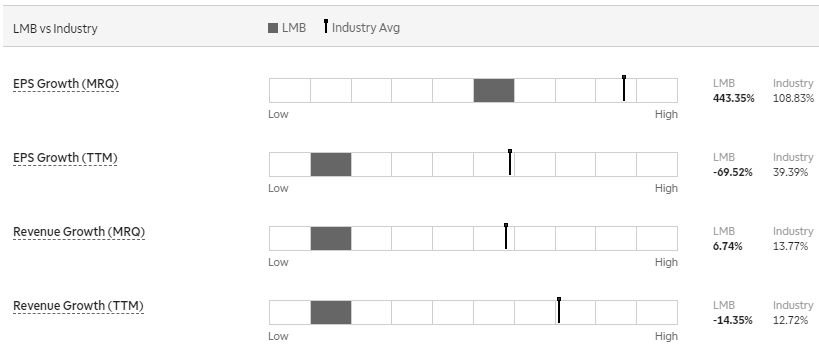 LMB is more indebted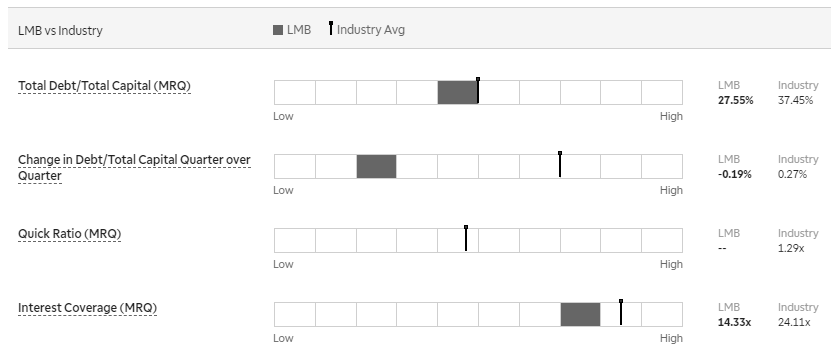 However, if the ODR segment grows as expected, all of these issues will be resolved. By 2023, revenues would be positive and LMB would have net cash (including capital leases). And by 2026, the gross margin would be at the industry average.
Another risk I see relates to mergers and acquisitions. Other companies are replicating LMB's strategy and consolidating their market. There is therefore a risk that LMB overpays for acquisitions.
Conclusion
In this article, I offered 4 reasons why I think LMB shares are an attractive investment. LMB has the opportunity to play the consolidator card in a growing industry. Also, the valuation looks very attractive as you get the ODR segment at a bargain price.